Compact and multi-stacking type HIFLEX NEO "S series" with excellent performance
equivalent to HIFLEX NEO
Basic performance of HIFLEX NEO S is equivalent to HFILEX NEO, which is treated as "standard chamber".
Addition to advanced space-saving design and multi-stacking performance for simultaneous plural tests, basic policy of HIFLEX NEO is penetrated.
•Contribution to development time reduction by space-saving
Installation space comparison between SXN403 and 3 units of existing model. Space-saving contributes minimization of development period because of not only effective use of installation space but also simultaneous different 3 kinds of tests with different condition.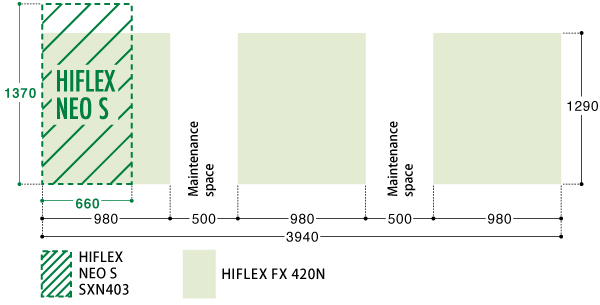 High performance
Adoption of powerful sirocco fan
Adoption of sirocco fan which is more powerful wind volume and pressure than propeller fan which is used test at laboratory.
Sirocco fan contributes high uniformity performance while specimen inside.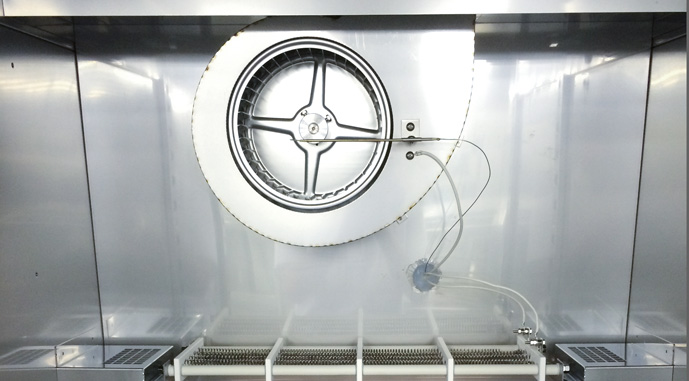 Wide Temperature/humidity range
Even the compact size, it realizes equivalent temperature range to NEO series. It also enables maximum humidity range 98%RH operation.
Furthermore, as option, enlargement of non-frost range is positive.
High reliability
Reliable refrigerating circuit
Reliable rotary compressor is adopted.Temperature ramp-down up to −40°C is guaranteed.
Excellent refrigerator capacity could not effect significant influence even with optional viewing window.
Expansion of ambient temperature range
Because of reliable rotary compressor, ambient temperature range is expanded to +40°C from existing +35.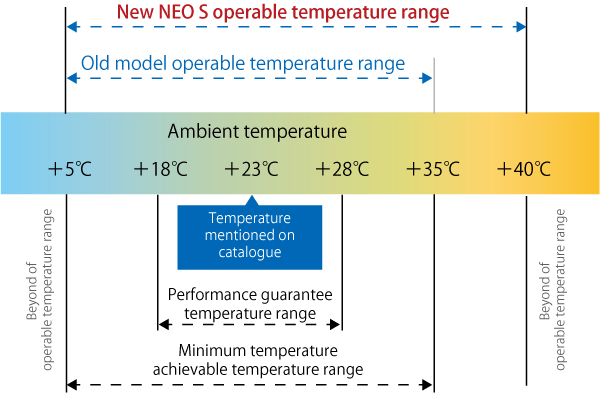 Internal dimension (WxHxDmm)
Temp./humid. range
500×350×350
(500×350×350)×2
(500×350×350)×3
(600×600×500)×2
−40°C〜+100°C[+150°C]
20%RH〜98%RH
SXN401
SXN402
SXN403
SXN412
−40°C〜+100°C[+150°C]
SLN401
SLN402
SLN403
SLN412